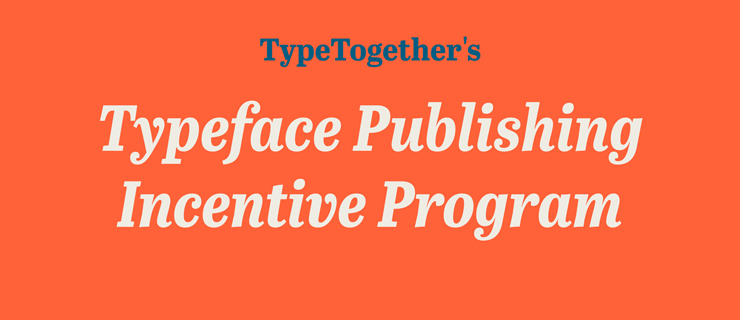 In June 2013 Ampersand conference hosted an exhibition of work by students of typeface design courses, there were submissions from over 30 countries: a reminder that typeface design is an international endeavour, growing in recognition as a career with path for study and recognised professional norms. As with other professions, this maturity brings increasing competition for new designers.
Eighteen months ago Monotype initiated a Mentorship Program for designers under 30. Yesterday, Type-Together announced their Typeface Publishing Incentive Program, for graduating students. This initiative, open to all designers currently studying typeface design, recognises the pressures on designers who may have promising projects alongside financial loans, and the very real stress of "what happens after graduation?"
Like in any established profession, the careers paths of typeface design graduates are not uniform, and the demand by the market and potential employers may not match exactly with the skills and experience of graduates — this is normal, and it is one of the correctives that allows outliers to enter the profession, as well as feedback to education institutions so that they evolve. But anyone with a good understanding of the sector will regret the small number of exceptional projects developed during study that never, or very late, make it onto a foundry's catalogue.
Type-Together and Monotype are putting their money where their mouth is, and are offering support to a promising designer for those crucial first months after graduation. This support can make the difference between a typeface with potential being developed properly, and it being lost between the Scylla of "I'll do it when I have more time" and the Charybdis of some "free" service, for peanuts.
People will object and say that this is too little for a growing profession. I'll counter that this may well be the beginning of a trend in companies supporting new professionals, parallel to many schemes in other sectors. It is not too far-fetched to imagine that most major foundries might soon have a similar scheme: this would allow them to get in early on potentially great typefaces, and check out a new professional (who may well end up being hired, or contracted). More widely, it allows foundries to send a clear message that they recognise and support excellence in typeface design, and — through their selections — what is innovative and worth exploring.